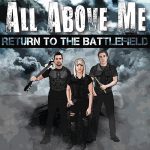 Due to the COVID-19 pandemic, we've canceled the Spring Folly Youth Retreat at C.A.S.S.  We'll be hosting a livestream event called Spring Folly LIVE on Friday, April 24, from 7-9pm.  Click

HERE

to go to SF's YouTube page.

NOTE: The All Above Me concert has been canceled this year.  We'll look forward to having All Above Me perform at SF2021.
We're looking forward to having All Above Me rock Spring Folly this year.  You can catch them live on Sat. April 25h, at 8pm at Central Algoma Secondar School.
All Above Me began to gain recognition after releasing their first EP called "We Are Outcasts, "which featured 5-time Juno Award nominee, MANAFEST.  In 2018, All Above Me released their first full-length album called "Return To The Battlefield," which features a song with Kevin Young of the Christian metal band, DISCIPLE.   All Above Me has won a  YYC "People's Choice" Music Award, as well as been nominated for three GMA Covenant Awards.  You can check them out at allabovememusic.com.
The concert is included with each teen and youth leader registration.  It is also open to the public with tickets available at the door for $20 each.
Check out All Above Me at allabovememusic.com.  Here's a taste of their music: