We're excited to have Matt Wilkinson as our speaker at Spring Folly 2017.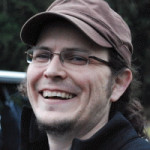 Matt is a busy guy!  He's the Director of Youth Ministries for the Canadian Baptists of Ontario & Quebec, the Executive Director of Camp Kwasind, and an Adjunct Professor of Youth Ministry – Tyndale University College.  He's also Co-Director of Today's Teens Conference, and author of the book Youth Ministry: Now and Not Yet.
Matt has heard all about Spring Folly from his brother and sister-in-law (Rich and Mary Brohart) and is looking forward to being with us this year.