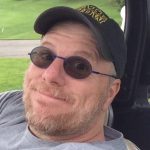 We're excited to have Joey Molloy back as our speaker at Spring Folly 2018.  Joey spoke at SF2012.
Joey was a youth pastor at First Baptist Church in Sault Ste. Marie for a number of years before serving in the same role at The Met Bible Church in Ottawa until recently.  He's now the Ministry Director at Camp Cherith Lanark.
Joey pulls no punches when he speaks to teens and yet they respond well to is teaching.  We're looking forward to what the Lord lays on Joey's heart to share with us at SF2018.