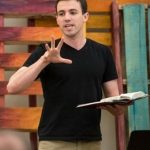 Due to the COVID-19 pandemic, we've canceled the Spring Folly Youth Retreat at C.A.S.S.  We'll be hosting a livestream event called Spring Folly LIVE on Friday, April 24, from 7-9pm.  Click

HERE

to go to SF's YouTube page.

We're excited to have Logan Gates as our speaker at Spring Folly 2020.
Logan is a speaker with Ravi Zacharias International Ministries, Canada (RZIM.ca).  Logan has spoken at the past two Ready Answers Apologetics Conferences (ReadyAnswers.ca) and the teens loved him so much, we decided to invite him to Spring Folly.  Logan isn't afraid to confront tough questions and deep issues, and he does so in a humble, winsome way.  He lives in Toronto where he loves to surf, drink tea, and cook with his lovely wife, Samantha.
Here is a video Logan's session from the 2018 Ready Answers Youth Night, in which Logan shares why he trusts the Bible: