We're excited to have Matt Bellefeuille as our speaker at Spring Folly 2019.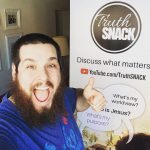 Matt loves to talk.  Not just to hear himself.  He really likes to talk to teens about what matters.  Specifically, he likes to talk to them about the truth of Jesus Christ.
Matt has been involved in youth ministry for years, and worked with Joey Molloy (last year's SF speaker) in Ottawa.
He runs a YouTube channel called TruthSnack where he discusses what matters most.  Check it out at http://www.youtube.com/TruthSNACK